Article: No Matter Your Age, Everyone Desires Beautiful, Healthy Skin!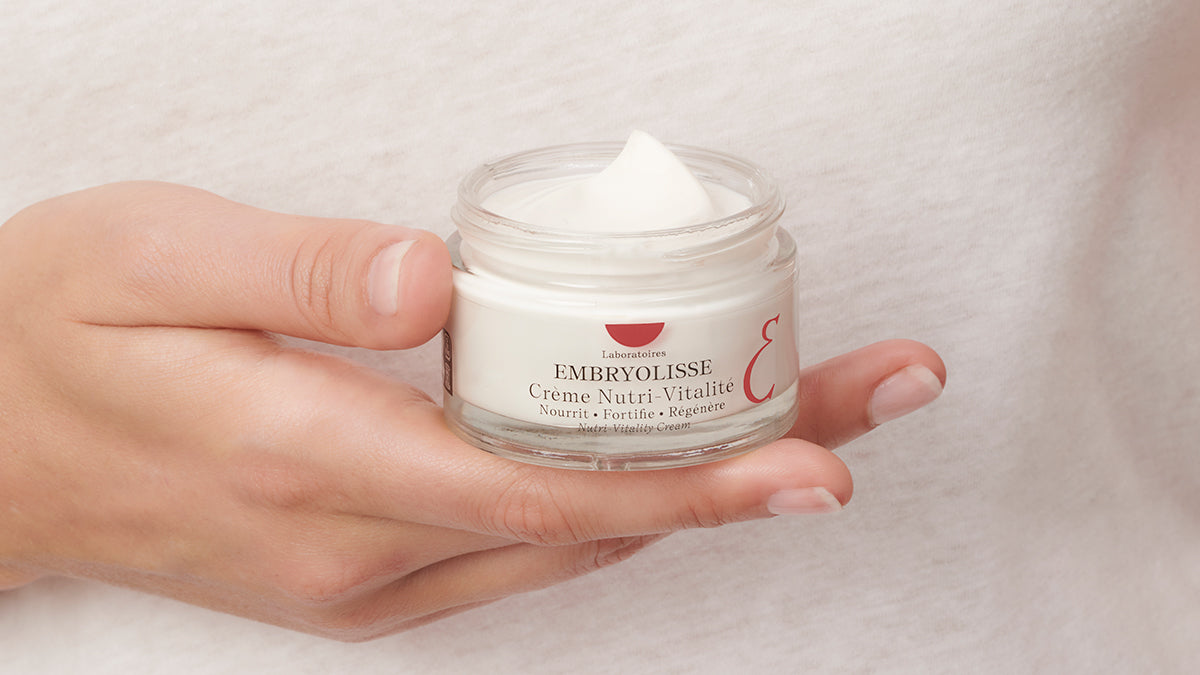 No Matter Your Age, Everyone Desires Beautiful, Healthy Skin!
Meet Nutri-Vitality Cream
A rejuvenating, effective, natural, and gentle skincare product featuring Red Maple for healthy skin.
You may already know that there's no magic cream to turn back time, and that's perfectly fine because you may not want that. However, what you might struggle with is seeing your skin becoming dry, lacking tone and vitality as the years go by. Although this process is normal, it can affect your mood.
But here's the good news - the loss of tone and vitality is far from inevitable! Embryolisse's Nutri-Vitality Cream is a new anti-aging treatment that helps restore and maintain your skin's full potential. Enriched with nourishing, fortifying, and regenerating natural ingredients, Nutri-Vitality Cream brings back your skin's tone and radiance.


For Daily Nourishment and Protection
An invigorating blend of ceramides and macadamia oil.
To address the surface signs of wrinkling and dryness, Nutri-Vitality Cream harnesses the natural benefits of macadamia oil, rich in omega-9 fatty acids, combined with a cocktail of antioxidant ceramides. This daily boost strengthens your skin's natural barrier, leaving it softer, fresher, and smoother. It also enhances protection against external aggressors.


For Deep Revitalization
The naturally regenerative power of red maple bark for healthy skin.
Red Maple has been revered for centuries for its strength and resilience. Embryolisse's research has successfully identified a 100% naturally sourced extract from Red Maple bark with exceptional regenerative properties. Extracted using eco-friendly methods, this powerful ingredient is highly concentrated in antioxidant polyphenols. It stimulates the essential supporting fibers of the skin - collagen and elastin - resulting in increased firmness, elasticity, and tone. You'll notice the difference in the appearance and feel of your skin.


All In a Blissful Cream 
Smooth, enveloping, and gentle on the skin.
This cream combines the nurturing force of nature with optimal tolerance, making it perfect for your skincare routine. With its skin-friendly and ultra-comfortable formula, Nutri-Vitality Cream respects and cares for your skin. Its unique texture provides a comforting and luxurious sensation, leaving your skin feeling strengthened and revitalized.
To experience the remarkable benefits of the Nutri-Vitality Cream, apply it every morning and evening to your face and neck. The results speak for themselves, as confirmed by 32 women with sensitive skin who participated in an exclusive early test. After 28 days of twice-daily use, an impressive 97% reported their skin looking and feeling its best.
Here are some key findings from the participants:
97% noticed improved skin density and elasticity
100% observed a reduction in the appearance of fine lines and wrinkles
100% experienced softer and more radiant skin with a renewed vitality
The Nutri-Vitality Cream adheres to the highest standards set by Embryolisse Laboratories. It has been dermatologically tested on 100% sensitive skin and boasts a carefully selected formula with proven efficacy. With 97% of its ingredients derived from natural sources, this multifunction cream is also environmentally conscious. Its timeless recyclable glass jar reflects our commitment to sustainability.

Embryolisse is a brand recommended by pharmacists and makeup artists alike, trusted for its high-quality skincare solutions.

Experience the power of the Nutri-Vitality Cream for yourself and discover the wonders it can do for your skin. Say goodbye to dullness and embrace a healthier, more vibrant complexion.

▶︎ Take a look at our full range of anti-aging products