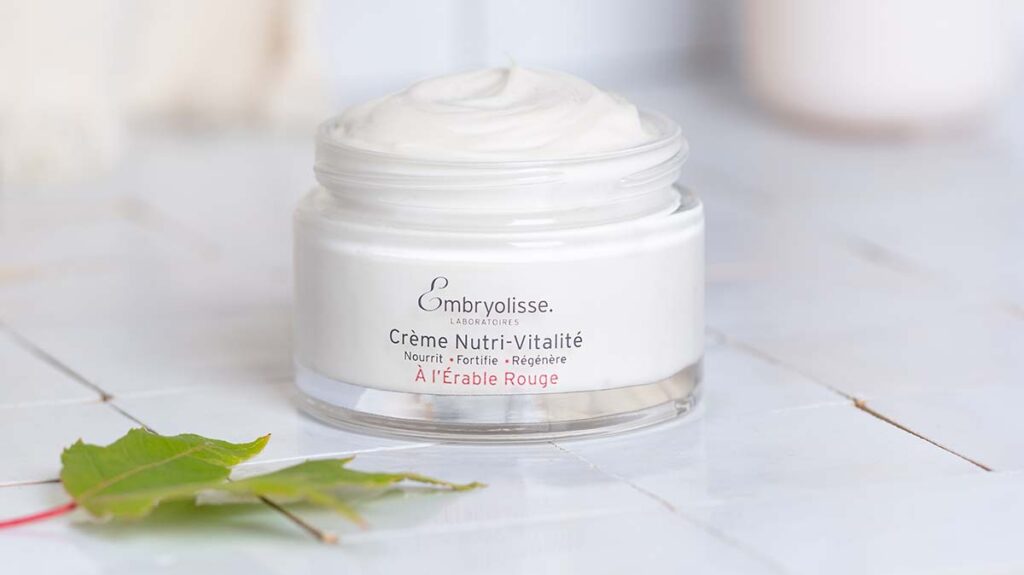 Innovation: Nutri-Vitality Cream with Red Maple "The New Anti-Aging Ally for Our Skin"
Red Maple, an extraordinary ingredient
Embryolisse has developed Nutri-Vitality Cream, the new generation Anti-Aging skincare, combining excellent tolerance with ingredients of natural origin. This formula provides the skin with the exceptional regenerating properties of red maple, a symbol of power and resilience. Discover the enveloping strength of nature concentrated in a rich, comfortable cream.
After the age of 50, the skin undergoes profound changes: drier and thinner, it loses its youthful plumpness; less supple, it lacks radiance and wrinkles tend to form more easily. The new Nutri-Vitality Cream by Embryolisse is a complete anti-aging treatment that globally and effectively targets the very source of skin aging to ensure optimal beauty and health. It nourishes skin, stimulates regeneration and restores comfort, allowing you to feel good about your skin and your age!
---
All the revitalizing properties of Red Maple in a cream
A true powerhouse of nature, Red Maple is resistant to extreme climatic conditions. Its bark, rich in active molecules, boasts a high concentration of polyphenols and vitamin C, providing it with unrivaled regenerating and antioxidant properties. Its extract stimulates the synthesis of collagen and elastin, effectively regenerating the skin's support fibers.
---
97% of women find that their skin looks healthier after 28 days*
And for good reason, as its effectiveness on skin density, appearance and radiance has been clinically proven:
97%* find their skin increasingly dense and 97%* more elastic

100%* find their wrinkles less pronounced, 97%* smoothed away

100%* find their skin softer and more radiant, 97%* more revitalized
*Self-assessment by 32 women with 100% sensitive skin, after 28 days of use.
---
Green from the forest to the skin
Committed to the environment, Embryolisse has always placed priority on eco-friendly design when creating its products. This starts with ingredient sourcing. The red maple extract contained in Nutri-Vitality Cream comes from the Canadian boreal forests. The bark from the forest industry is recycled and upcycled, thanks to a green extraction method which enables us to collect a maximum of active molecules without destroying the planet's resources. The packaging is also eco-designed. The glass
jar is infinitely recyclable, and the cardboard box is made from recyclable cardboard that comes from sustainably managed forests.
And because respect for the environment fully involves the consumer, Embryolisse clearly indicates the sorting instructions on the packaging.
---
What are the physiological changes in skin that have been weakened by age?
Around the age of 50, hormonal changes triggered by menopause accentuate the skin aging process: slower skin regeneration, reduced synthesis of support fibers, less lipid production. These changes lead to a loss in nutrients and vitality, resulting in cutaneous slackening, a dull complexion and thinner skin.
---
Manifesto
Since it was founded in 1950 by a dermatologist, Embryolisse has shown unique expertise in simple formulations, based on essential skincare needs: Hydration, nutrition and protection. Embryolisse is a family-run laboratory that designs and manufactures all of its products in France, rigorously selecting the most effective ingredients of natural origin and using eco-friendly packaging (aluminum, which is infinitely recyclable, has long been the brand's material of choice).
With its multipurpose products, Embryolisse has always endeavored to simplify beauty care routines, making them more effective, practical and affordable, thanks to a complete range of products from skincare to the "Artist Secret" line. Today, the performance and reliability or Embryolisse products are unanimously recognized by pharmacists and make-up artists all over the world.