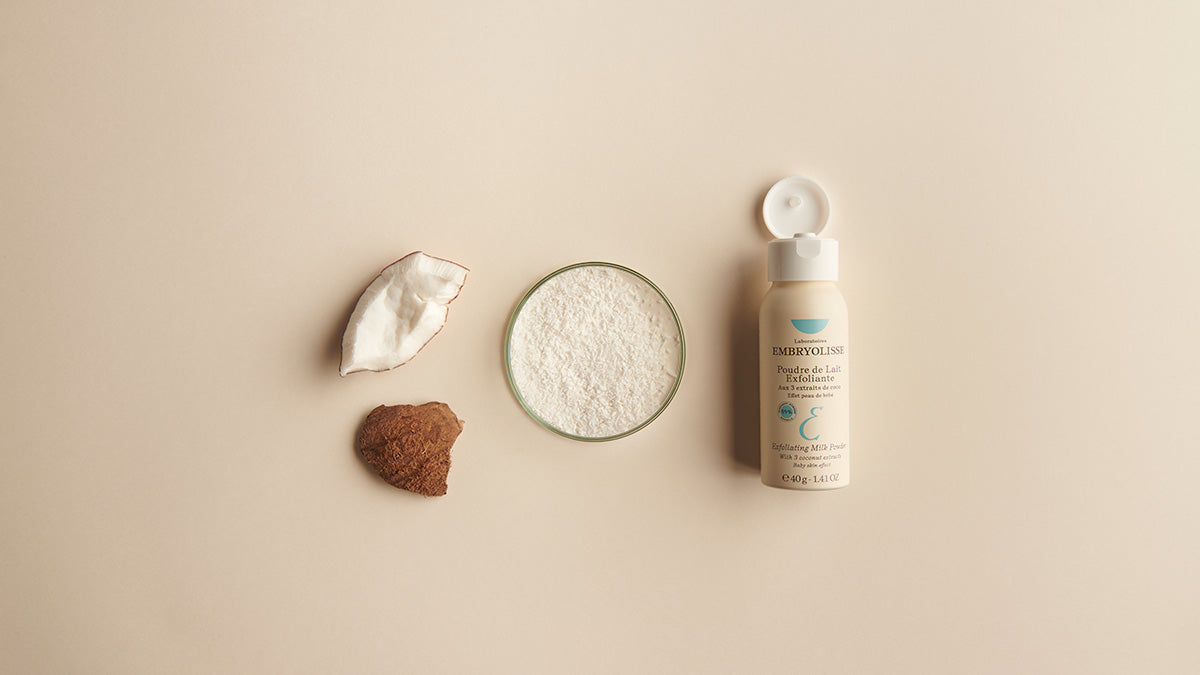 Exfoliating Milk Powder: uncovering The Secret Of Coconut And Its Benefits
Coconut, the ultimate multitasking wonder!
This versatile fruit holds countless properties and treasures. Known as kalpa vriksha in Sanskrit, the ancient Indo-European language, the coconut tree is referred to as "the tree that provides everything necessary for life."

Our Exfoliating Milk Powder combines the best of the coconut, utilizing three extracts from this virtuous fruit:
1. The Shell
2. The Pulp
3. Coconut Milk
The coconut shell gently exfoliates the skin
How is it used?
The micronized coconut shell is obtained by finely grinding the shell to create a delicate powder.
How does it work on the skin?
The particles in this coconut powder have excellent exfoliating properties. They eliminate dead cells and pollution particles that dull the complexion while maintaining the skin's integrity. The skin's texture is smoothed, and the complexion becomes radiant.
Properties of coconut shell:
Eliminates dead cells
Stimulates skin renewal
Refines skin texture

The coconut pulp for skin toning
How is it used?
Similar to the shell, coconut pulp is grated and micronized to obtain a gentle exfoliating agent with film-forming properties.
How does it work on the skin?
The pulp provides a thorough cleansing of the skin while leaving it hydrated and free of tightness. It helps to remove impurities and dead skin cells to achieve that sought-after deep clean without any of the harsh side effects.
Properties of coconut pulp:
Gently exfoliates
Tones the skin
Provides a delightful aroma

Coconut milk for softening the skin
How is it used?
Coconut milk is derived from the ripe coconuts' flesh. The finely grated pulp is then pressed to extract and collect the milk.
How does it work on the skin?
Coconut milk is rich in magnesium, sugars, amino acids, vitamin C, polysaccharides, and phenolic compounds such as anthocyanins and flavonoids. In the Exfoliating Milk Powder, coconut milk powder envelops the skin in a nourishing embrace, leaving it as soft as a baby's.
Properties of coconut milk:
Softens the skin
Restores radiance and freshness to the complexion

An innovative formula, featuring a trio of coconut extracts, for baby-soft skin.
"Our goal was to formulate a high tolerance scrub with as few ingredients as possible, preserving its quality and sensory experience while saving water. We succeeded in creating a fully anhydrous powder formula, concentrated in 99% ingredients of natural origin, and preserving its quality without the use of preservatives. This is quite an achievement compared to other scrubs containing three quarters water."