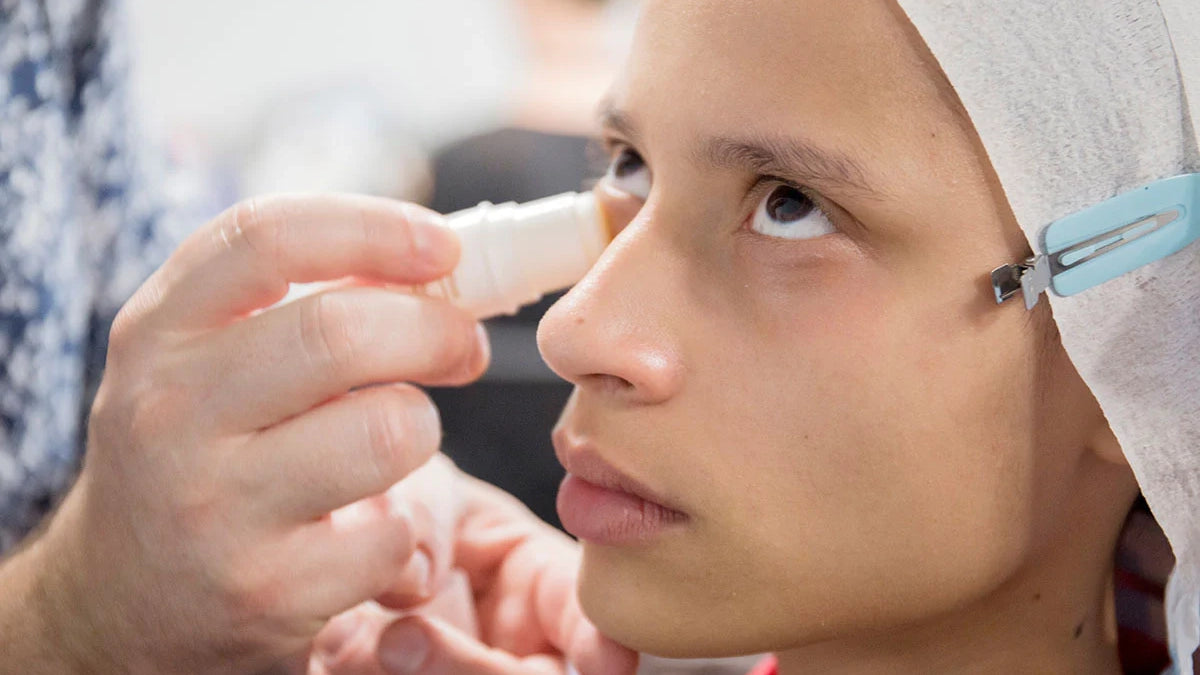 Tired-looking Eyes? Makeup Artists Have A Secret To Make Them Pop!
Even with an excellent daily eye contour routine, some mornings are more challenging than others. Lack of sleep, accumulated fatigue, poor circulation… and dark circles are accentuated, giving a tired-looking eyes appearance.
Tired-Looking Eyes: the Embryolisse's magic quick fix
Awarded at its launch in 2015 by Santé Magazine (a renowned and trustworthy French Health Magazine), Embryolisse Radiant Eye Stick has since gained many fans, including professional makeup artists worldwide. Radiant Eye little stick with a cooling effect has revolutionized daily eye care routines. The refreshing and moisturizing aloe vera product has an "instant morning wake-up" effect and is the express solution to relax the eye contour and reduce dark circles and puffiness.
Olivier Tissot, Embryolisse expert makeup artist, explains why:
| | |
| --- | --- |
|   | "The 1st advantage of Radiant Eye Stick is the decongesting ice-cold effect that makeup artists have always used. Previously, we used a cold spoon to decongest, but not anymore. The eyes are rested. We can then proceed to apply concealer." |
Radiant Eye Stick strengths?
A

 

compact size

 

that fits perfectly around the eye contour and un your purse or pocket.
99% naturally

 

derived ingredients
An

 

immediate cooling effect, even without refrigeration
Fragrance-free

 

to avoid skin reactions and allergies.
8 out of 10 women are concerned with puffiness and dark circles, so tired-looking eyes are not a minor concern. The reason? The skin around our eyes is four times thinner than on the rest of our face. With fewer sebaceous glands, the eye contour skin lacks protective film. Its defense mechanisms are therefore limited against daily aggressions.
Why take care of your tired-looking eyes and their contour?
Cleansing and makeup removal that's too often done with unsuitable products.
UV rays

 

to which it's exposed every day, all year round.
Movements of the eyes

 

and eyelids contribute to the appearance of fine lines and wrinkles.
Polluting agents, dust, tobacco…
Too many hours spent in front of

 

screens.
These daily micro-aggressions can cause allergies, redness, dry skin, itching, and swelling. They also constantly contribute to the appearance of signs of aging.
To counteract all this, a few good habits are easy to adopt morning and evening:
An excellent gentle cleansing/makeup removal
Protective moisturizing treatment to strengthen the skin
For the eye contour, we highly recommend using Radiant Eye Stick daily to add a refreshing glow to your eye contour and reduce tired-looking eyes overtime.
Radiant Eye Stick format makes it easy and quick to apply, and it's so compact that it fits into any handbag. purse or pocket for a quick touch-up anytime, anywhere. With 99% natural ingredients, you don't have to worry about overuse or redness – apply it as often as needed throughout the day. Plus, storing it in the fridge doubles its effectiveness and makes application a breeze.
Discover all the details of the Radiant Eye Stick on our product page. For any questions, feel free to email us at hello@embryolisse.com.