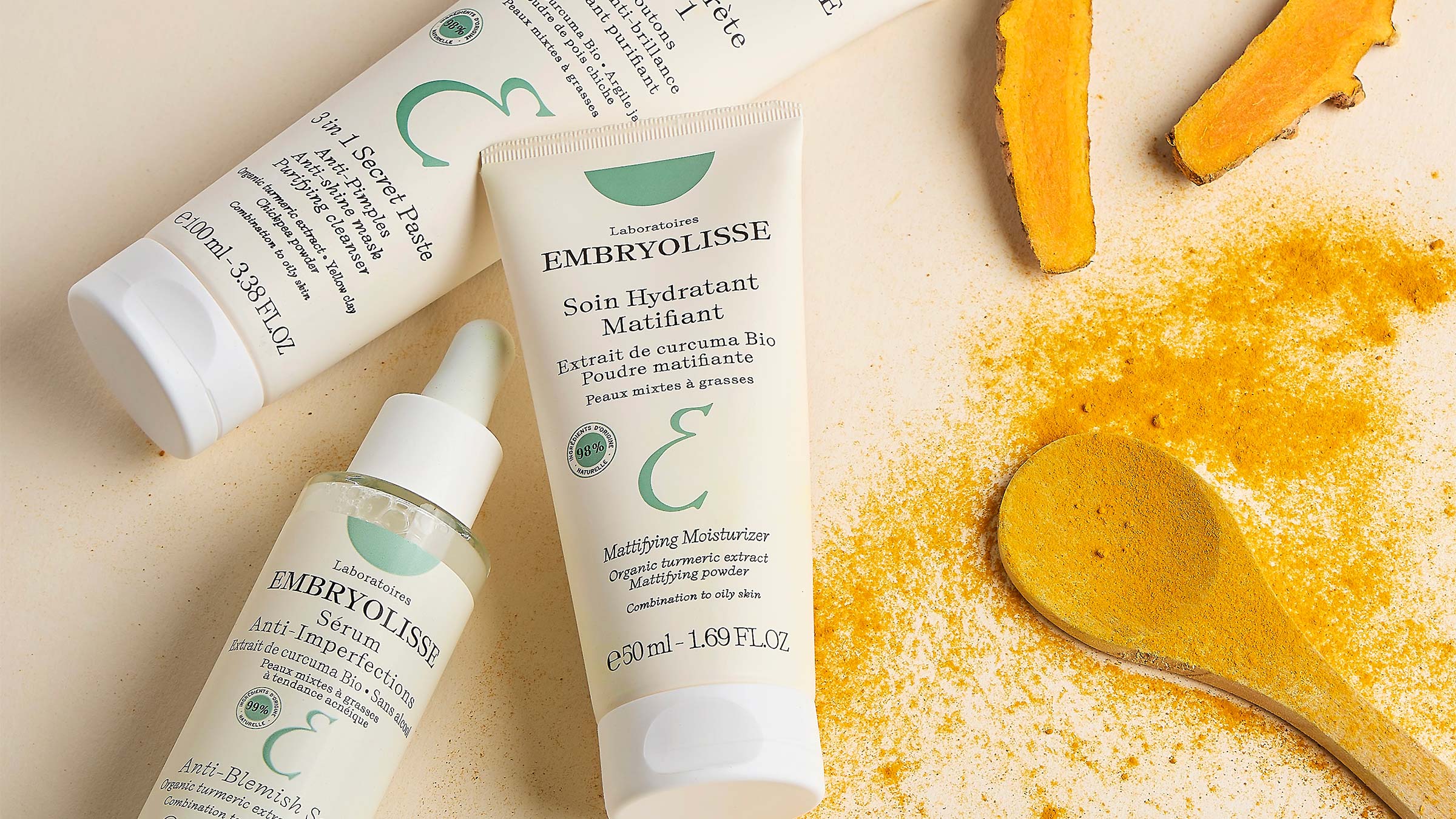 Anti-Blemish 3-Step Routine For Acne-Prone Skin
For its new Anti-Blemish range, Embryolisse has chosen a star ingredient: Organic Turmeric. It's a highly talented and super gentle ingredient that effectively combats imperfections. You can find it in 3 highly natural skincare products, making it a simple 3-step routine.
Organic Turmeric: A Solution for Blemish-Free, Acne-Prone Skin
How can we explain the occurrence of acne or imperfections during adolescence and adulthood? It is often attributed to an increasingly stressful and tiring lifestyle, hereditary factors, or hormonal changes.
Blemishes are the result of a complex combination of factors that affect hair follicles and sebaceous glands in the skin. The causes are multiple: excessive sebum production, pore blockage, bacteria proliferation, leading to inflammation, and visible imperfections. Acne, blackheads, and cysts mainly appear on the face, back, and chest.
The use of inappropriate products promotes their appearance and recurrence. Indeed, repeated application of overly aggressive or drying products (such as alcohol-based ones) can alter the hydrolipidic film, disrupt the skin microbiota, which is a true microsystem that protects our skin, and further destabilize sebum production in combination and oily skin prone to acne: the "rebound effect."
Blemishes, Blackheads, Excess Sebum: What Routine To Effectively Fight Acne-Prone Skin Imperfections?
Step 1: Cleanse morning and evening
To effectively combat imperfections, it is essential to cleanse your skin morning and evening, removing impurities from its surface (dirt, pollution particles, makeup...) and thus preventing pore clogging. The 3-in-1 Secret Paste is applied to wet face like a regular cleanser, with a dual purifying and sanitizing effectiveness (formula made up of 98% naturally derived ingredients). Alongside Organic Turmeric, two other active ingredients are combined to improve the quality and radiance of the skin:
chickpea powder, which provides its cleansing and unifying properties
yellow clay with absorbent, mattifying, and toning powers
Results: The skin is perfectly clean and ready to receive treatments.
Step 2: Rebalance the skin
After cleansing, it is important to rebalance the skin's microbiota to regulate sebum production and prevent an overreaction of the skin. Apply the Anti-Blemish Serum morning and evening. The serum works on six different types of imperfections on both the face and the neck, back, and shoulders:
pimples
redness
eruptions
blackheads
marks
sebum
Composed of 99% natural ingredients, the Anti-Blemish serum combines Organic Turmeric with an essential amino acid derivative, Polylysine. A concise formula without drying alcohol that prevents the rebound effect.
Results: immediately, the skin is rebalanced, the skin texture is refined and smoothed. After 1 month of use, imperfections are visibly reduced.
Step 3: Hydrate
Skin prone to imperfections requires proper hydration to maintain skin moisture balance and strengthen the skin barrier, which acts as a shield against external aggressors such as pollution and bacteria. Without hydration, the skin may produce more sebum in response.

Morning and evening, apply the Mattifying Moisturizer to the entire face. Its formula, composed of 98% natural ingredients, combines Organic Turmeric with moisturizing vegetable Glycerin and a fine mattifying powder.

Results: the skin is perfectly hydrated, pores are tightened, the complexion becomes more even, and shine is consistently reduced.
Your skin partner: 3-in-1 Secret Paste, the overachiever in blemish control
SOS anti-blemish tip
A pesky blemish appeared? Apply the 3-in-1 Secret Paste directly on the spot at night to dry it out and reduce redness. Simply rinse it off in the morning and resume your regular skincare routine.
For a shine-control purifying mask
Apply a thick layer of the 3-in-1 Secret Paste for 10 minutes, once or twice a week, to target excess sebum production. After rinsing with clear water, your detoxified skin will instantly appear refreshed and healthier, with visibly reduced imperfections.
▶︎ Take a look at our Anti-Blemish skincare collection