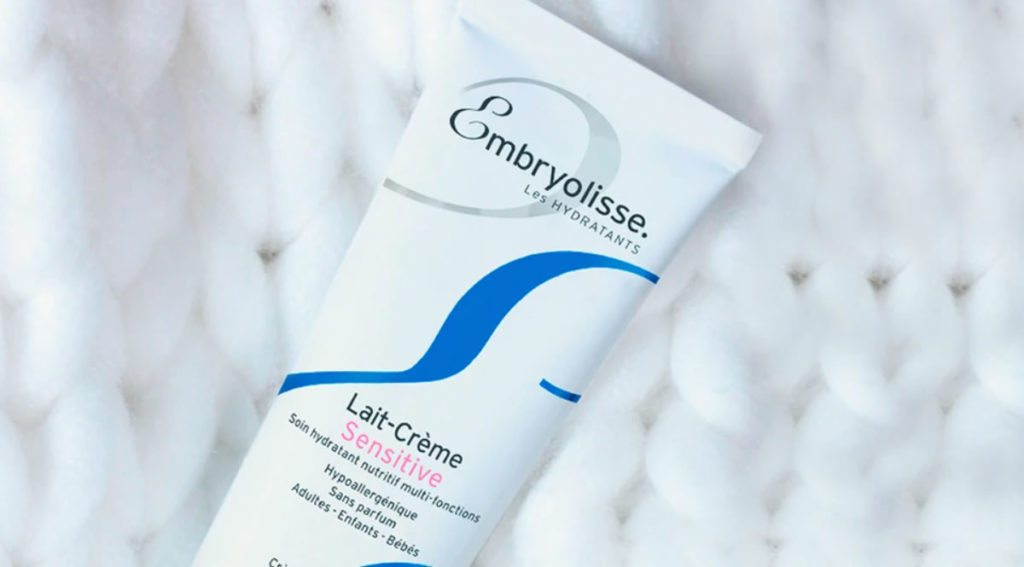 New Fragrance-Free Moisturizer: Lait Crème Sensitive.
The new fragrance-free moisturizer Lait Crème Sensitive shares the very same properties as the Embryolisse cult favorite Lait-Crème Concentré, in a new hypoallergenic formula developed for sensitive and/or intolerant skin!
Hypoallergenic, multi-functional fragrance-free moisturizer for the whole family, from the youngest to the oldest, what more could you ask for?
All the benefits of Lait Crème Concentré, now combined in a new hypoallergenic formula.
The Lait-Crème Concentré was created back in the 1950's by Dr. Tricot, a dermatologist in St. Louis hospital, and it has remained a resounding success to this very day! Passed on from mother to daughter, this precious family ritual ensures healthy and radiant skin. Its secret? A discreetly scented, short formula which combines perfect tolerance with efficiency.
Lait-Crème Sensitive gathers the same moisturizing and nutritious properties, thanks to the same core of active ingredients but in an unperfumed formula.
1 skincare product, 7 ways to use it
Tested under dermatological and pediatric control, Lait Crème Sensitive is also a multi-function skincare. Its creamy texture is pleasant and easy to apply. It is non-sticky, nongreasy, and leaves a very comfortable satiny veil over the skin. The Lait Crème Sensitive can be used in the following ways:
1. Moisturizer: Apply to clean and dry skin over the face and neck, morning and/or night.
2. Cleansing and makeup removal milk: Apply a small amount to a cotton pad, or directly on the skin. Massage into the face, around the eyes, and the neck to remove makeup and impurities.
3. Moisturizing mask: Apply a thick layer and leave for 15 minutes, 2 to 3 times a week. Either wipe off the excess or leave to sink in.
4. Body cream: Gently massage into the chosen area of the body.
5. Aftershave cream: Apply to the targeted area using a light massage to soothe the skin.
6. Makeup primer: Apply a small amount to the face using a finger, brush or make-up sponge.
7. Body and face cream for babies' delicate skin: Apply after showering as a moisturizer, or at any time of the day to dry areas of the skin.
Green & clean formula for a fragrance-free moisturizer
Embryolisse has stayed true to its values and has formulated its latest protective and fragrance-free moisturizer with the barest minimum of ingredients: Exactly what the skin requires: nothing less, nothing more!
However, fragrance-free does not mean odorless. Lait Crème Sensitive smell comes from the ingredients that make up its formula:
Soy proteins: rich in essential amino acids, moisturizing.
Aloe Vera: rich in mucilage, vitamins, and nutritive elements, moisturizing and soothing.
Shea butter: rich in essential fatty acids and vitamins, known for its nutritive properties.
Beewax: protective and softening.
18 ingredients combined in a fragrance-free formula that goes straight to the essential.
Proven efficacy and multiple benefits
Extremely good tolerance
Embryolisse Laboratoires developed Lait Crème Sensitive with carefully chosen ingredients known for their hypoallergenicity to soothe "unpredictable" skin. Since fragrant notes can pose a potential skin reaction or even allergies, the formula is fragrance-free making it suitable for babies and children, but also men who generally prefer a more neutral scent.
Tested under DERMATOLOGICAL AND PEDIATRIC control, the Lait-Crème Sensitive has shown very good skin tolerance in adults and babies. No signs of discomfort or tightness were noted during the tests*.
*Cutaneous acceptability study evaluated on 54 adults with sensitive skin for 4 weeks. Skin acceptability study on 22 babies for 3 weeks.
A lasting soothing effect for hypersensitive skin
Tests have shown a long-lasting soothing effect on hypersensitive skin, as well as a reduction in skin sensitivity, with a significant reduction in the overall intensity of tingling*.
*Evaluation of skin hypersensitivity in 22 women after 28 days of use.
Long-lasting hydration
A lasting soothing effect for hypersensitive skin as well as long-lasting hydration proven by instrumental measurements and an anti-dehydration protective effect, which helps strengthen the skin barrier.
A beautiful skin result
Lait Crème Sensitive improves the skin's radiance, its smooth appearance, its elasticity and its suppleness.