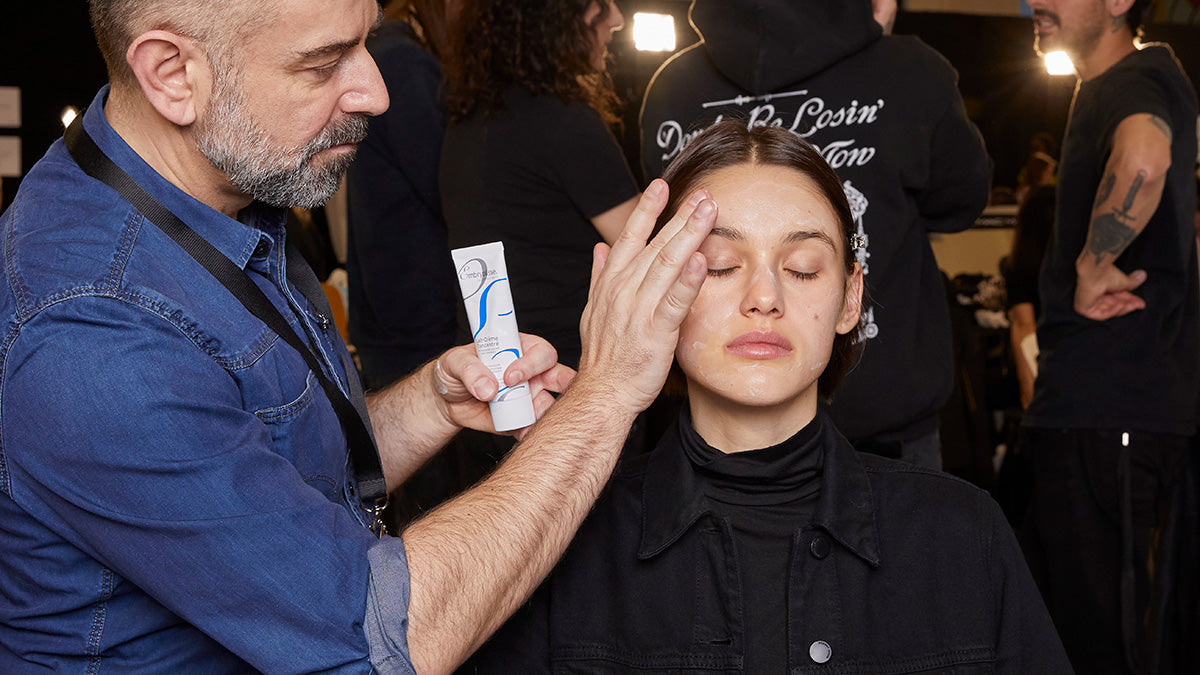 Makeup Artists love Embryolisse
Acclaimed by makeup artists all over the world, from behind the scenes on film sets to fashion shows, Embryolisse offers natural products that are effective, easy, and fun to use.
A Pioneer in multipurpose skincare and beauty facilitator, the brand wishes to share a few tips from expert makeup artist Olivier Tissot, to ensure fresh and 100% "feel good" makeup with skincare results!
---
Lait-Crème Concentré
Not all moisturizers can be massaged into the skin. Lait-Crème Concentré is ideal for massaging and relaxing skin before applying makeup. After a few strokes, its light texture is rapidly absorbed. Once moisture has been replenished, the skin appears flawlessly supple and velvety smooth and is ready for the application of all types of makeup.
THE favorite universal moisturizer of makeup artists! Suitable for all skin types, this multipurpose moisturizer leaves a veil of softness over the face. A simple and effective formula that nourishes and softens the skin with shea butter while maintaining maximum hydration, thanks to aloe vera, soy proteins, and beeswax.
---
Eau de Beauté Rosamélis
Unlike thermal mists, which tend to dry out the skin, this formula has a floral water base that delivers a boost of energy. It perfectly sets makeup and helps restore a sheer finish when too much foundation has been applied.
This toning lotion awakens the complexion with its high-performance cocktail comprised of four organic floral waters (Rose, Orange, Witch Hazel, and Cornflower). It may be applied throughout the day to refresh, soften and tighten the skin's texture and used in the evening as a lotion to complete your makeup removal routine.
Discover the Eau de Beauté Rosamélis 
---
Concealer Correcting Care
This tinted treatment immediately conceals dark circles, evens out the eye contour area and softens signs of fatigue. The formula combines ash extract with protective and phlebotonic action, restructuring organic silicon, collagen-boosting vitamin B3, moisturizing and smoothing polysaccharides, humectant glycerin and antioxidant vitamin E.
Available in 2 shades: Rose and Beige. For perfectly even application, apply to skin using both hands at the same time, rather than one after the other. Place a dab of correcting care on the middle finger and rub middle fingers together to warm up the product. Then, pat over dark circles, always starting in the center and paying particular attention to both the inner and outer corners of the eyes.
---
Intense Lift Eye Cream
This silky texture perfectly blends with the skin, delivering an immediate lifting effect for wider-looking, luminous eyes.
This eye lifting cream intensively targets the entire eye contour area: eyelids, fine lines, dark circles and puffiness, for a global restructuring effect that opens up and illuminates the eyes. The eyelids appear lifted. Formulated with chestnut blossom extract, with lifting and energizing properties, and plant-based hyaluronic acid with a wrinkle-reducing and filling action, making it the ideal ally for tired eyes.
---
Radiant Eye Stick
This is today's version of the spoon we place in the refrigerator to diminish undereye puffiness. And much more practical! Easy to use in all circumstances, it decongests, relaxes and stimulates microcirculation. Gently massage over skin several times, working from the inner to the outer corners of the eyes, then over the upper and lower eyelids: the eyes magically recover their fresh appearance!
This refreshing and rapid fatigue-erasing skincare stick is the secret weapon of makeup artists: formulated for sensitive eyes, it contains soothing and protective organic aloe vera, metabiotics that boost microcirculation, a patented moisturizing complex and glycerin that retains water and plumps up skin tissue. The eye contour area immediately looks fresh, while dark circles and puffiness are diminished.
Discover the Radiant Eye Stick
---
Cicalisse Cream
Highly effective for attenuating redness, scratches and sunburn, Cicalisse Cream also eliminates patches of dry, chapped skin on the lips: apply a thick layer to lips, like a mask. Leave on for 10 minutes, before removing with a cotton swab and eliminating the small scales, which have become emollient.
This multipurpose skin repair cream treats all minor afflictions (dry, chapped lips, sunburn, dry patches…) caused by any stress factors. Extremely well-tolerated with an instant protective and soothing effect, it is ideal for the entire family.