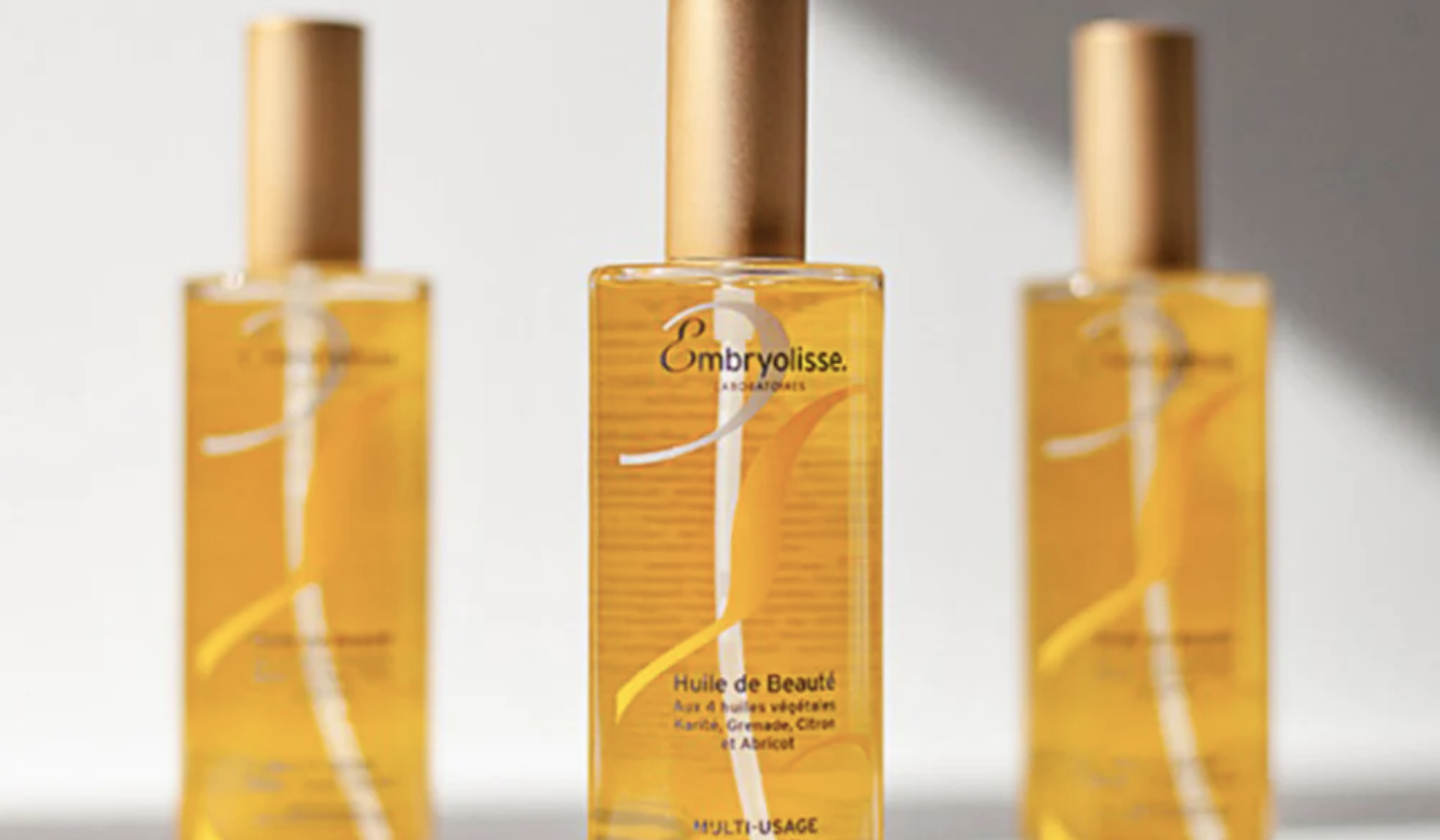 Multi-function Beauty Oil: 98% ingredients from 4 vegetable oils
The new multi-function beauty oil by Embryolisse comforts, protects and beautifies your hair as well as your face and body skin. It is a paraben-free generous and enveloping skincare made of natural-origin active ingredients.
As always, Embryolisse Laboratories have focused on simplicity and efficacy, favoring a universal and natural formula with meticulously chosen ingredients.
---
A Subtle Fragrance
The fragrance of a skincare product contributes to the pleasure of application, especially oils which have the property of capturing scents and fixing them on the skin. Beauty Oil has the same fragrance as the Lait-Crème Concentré.
---
Multi-function Beauty Oil: The Embryolisse Solution
Thanks to the benefits and quality of its fatty acids, Beauty Oil has a special affinity with the skin.
Fine, non-greasy and yet very moisturizing, nourishing and toning, it not only strengthens the skin barrier daily but also acts like a second skin. Beauty Oil blends together the powers of 4 active vegetable oils from natural origins.
---
4 Active Vegetable Oils
POMEGRANATE OIL
Thanks to its high content in Omega 5 and essential fatty acids, it regenerates and helps to detox the skin.
APRICOT OIL
Rich in oleic acid, vitamins A & E as well as apricot kernel oil is renowned for its nourishing and softening properties.
SHEA OIL
The nuts concentrate oleic, linoleic and unsaponifiable acids at the same time. It makes it a softening, nourishing, protective and film-forming ingredient.
LEMON OIL 
Not only full of essential fatty acids, but this extract also has powerful anti-dehydrating and softening effects.
---
How To Use The Multi-function Beauty Oil
Beauty Oil is an easy-to-use accessible product, suitable for everyone and above all, has a wide range of possible applications:
Face, to deeply nourish dry & very dry skin.
Body, to moisturize, nourish, tone and beautify.
Hair, to hydrate and enhance the lengths & tips.
Hands, to hydrate and protect.
Intensely hydrated, deeply nourished and continuously protected, the skin regains and retains its softness. As a result, it is supple and radiant with a beautiful satin effect.
Beauty Oil